New York City, famous for Broadway, shopping and nightlife, is also home to one of the largest urban parks in the country, Central Park.  Surrounded by skyscrapers and busy streets, Central Park is a haven for NYC locals and visitors alike, providing a quiet space from the chaos and noise of city life.   At an impressive 843 acres, the park is full of amazing attractions, and it hosts many plays, concerts and family events.  Let us take you on a photographic tour of this natural oasis in the spring, and share with you what we love about Central Park!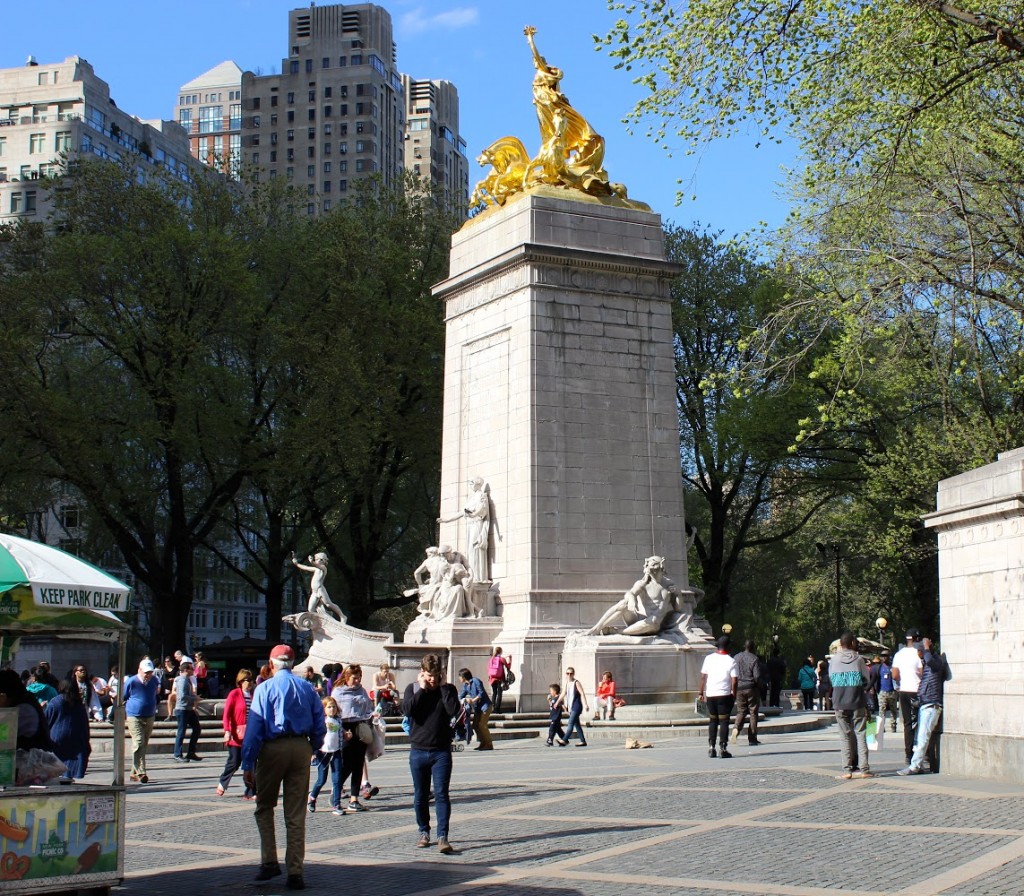 At the southwest corner of Central Park, the Maine Monument welcomes visitors at Merchant's Gate, named after the importance of business to New York City.   The monument itself is in honor of the USS Maine, dedicated in 1913.  This is a bustling street corner, with plenty of food vendors and street performers.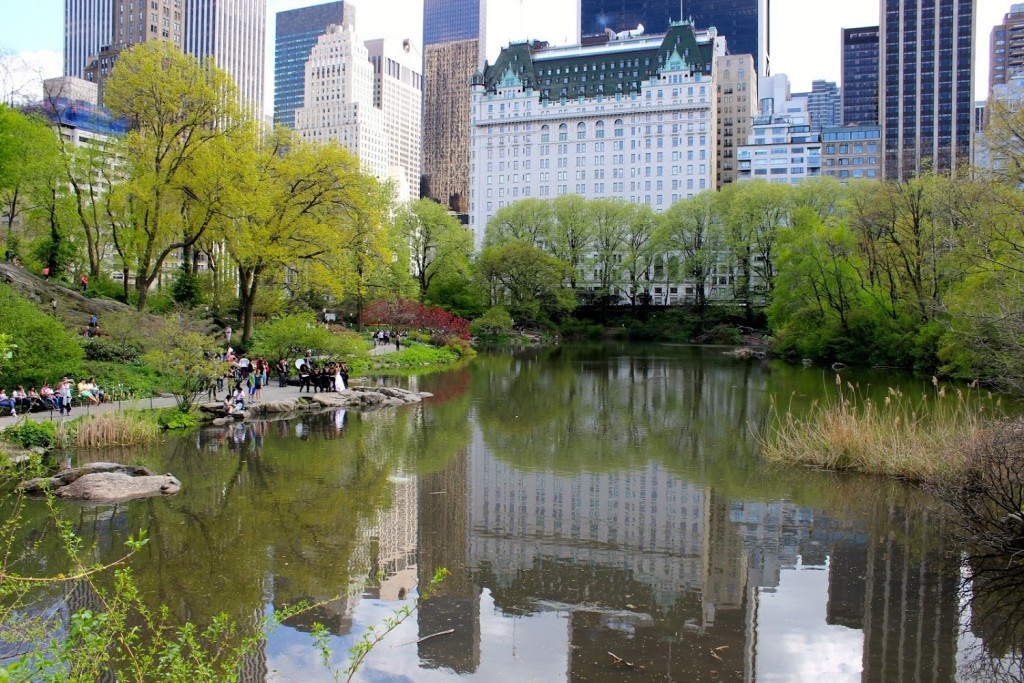 From the Maine Monument, walking through the park along Central Park South, you will find yourself at a tucked away body of water, simply known as The Pond.  It's a scenic juxtaposition of natural and urban beauty, with the reflection of the tall buildings in the calm water.  Today a bride and groom were using this lovely location as the backdrop for their wedding photos!  Can you spot them?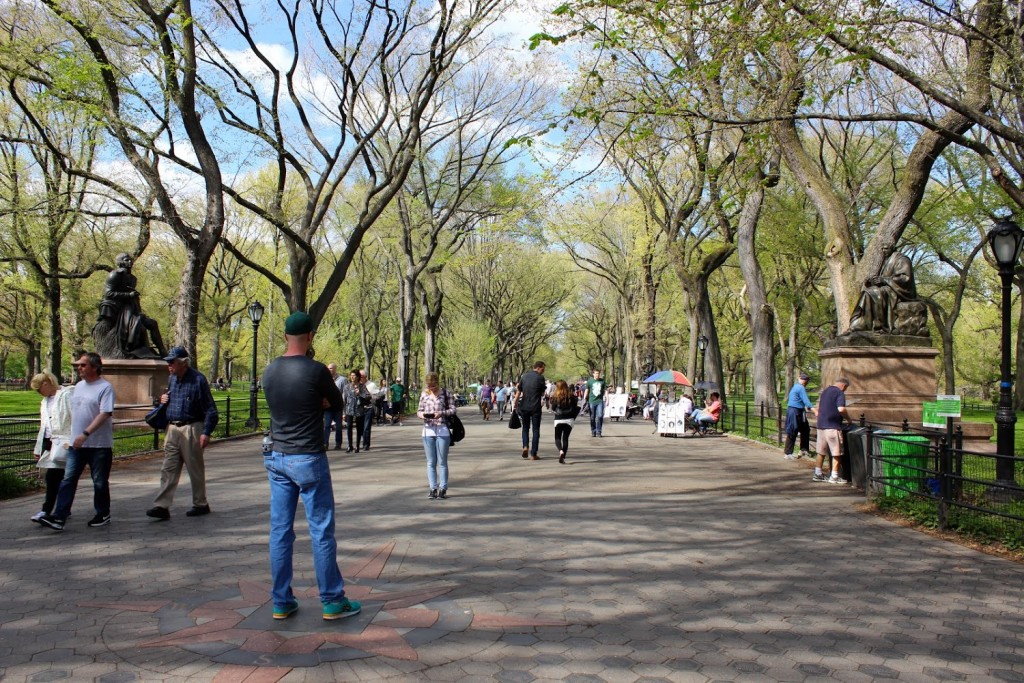 Passing the Central Park Zoo on your right, you will soon find another fantastic park feature, the Literary Walk.  The walk, which is park of the Mall walkway, features statues of many famous writers, including William Shakespeare and Sir Walter Scott.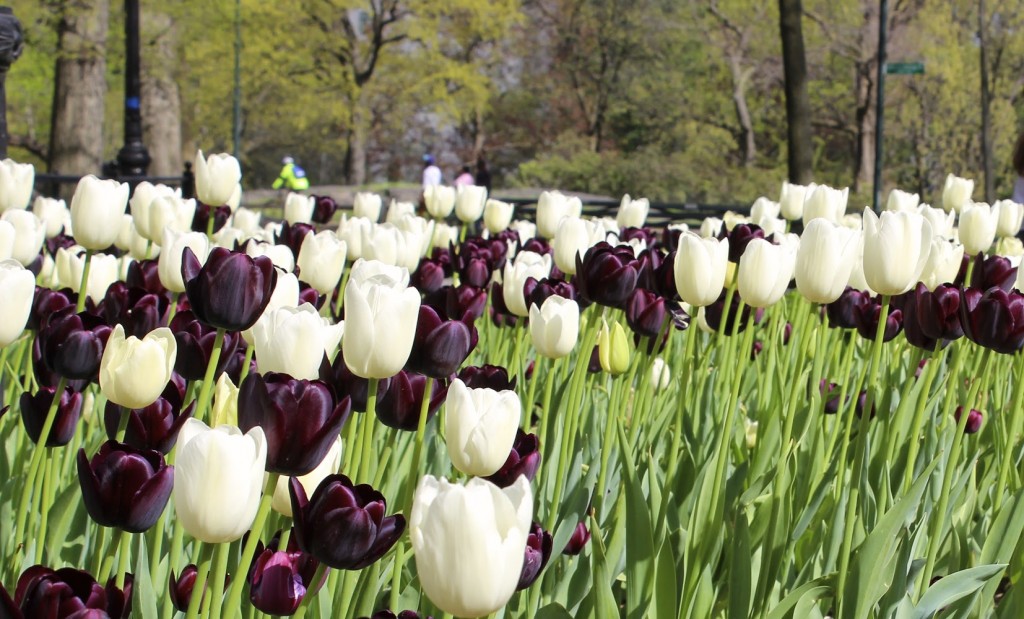 The flowers along the Literary Walk are so pretty, bursting with colors of the season!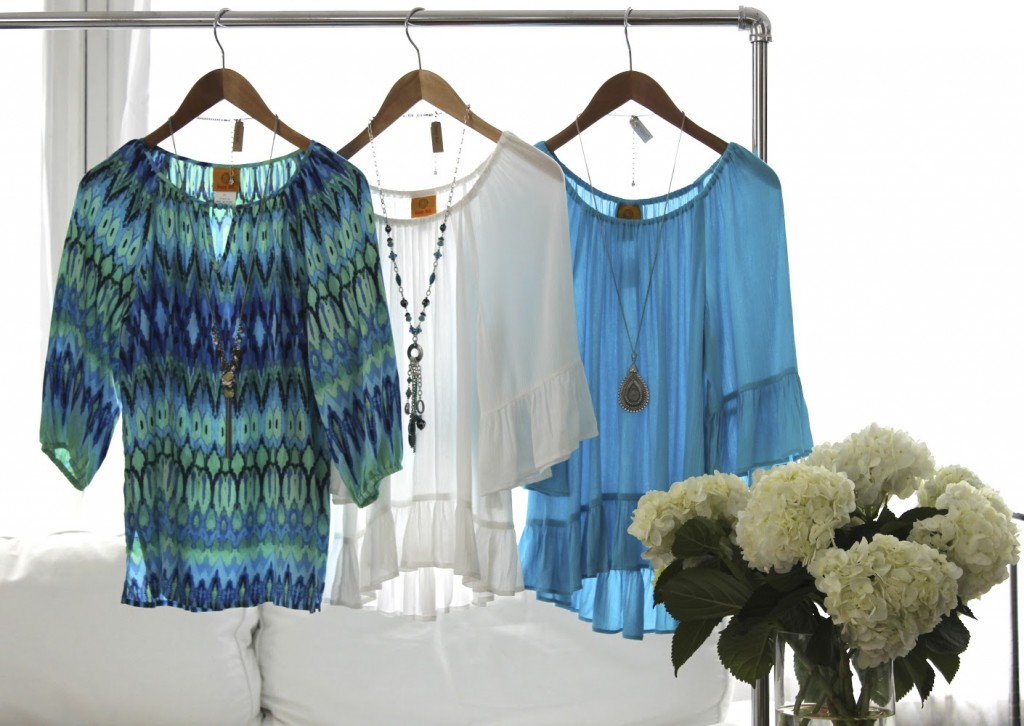 Our designer's favorite picks: For days like these, our peasant tops in airy fabrics are this season's chic, go anywhere, essential style!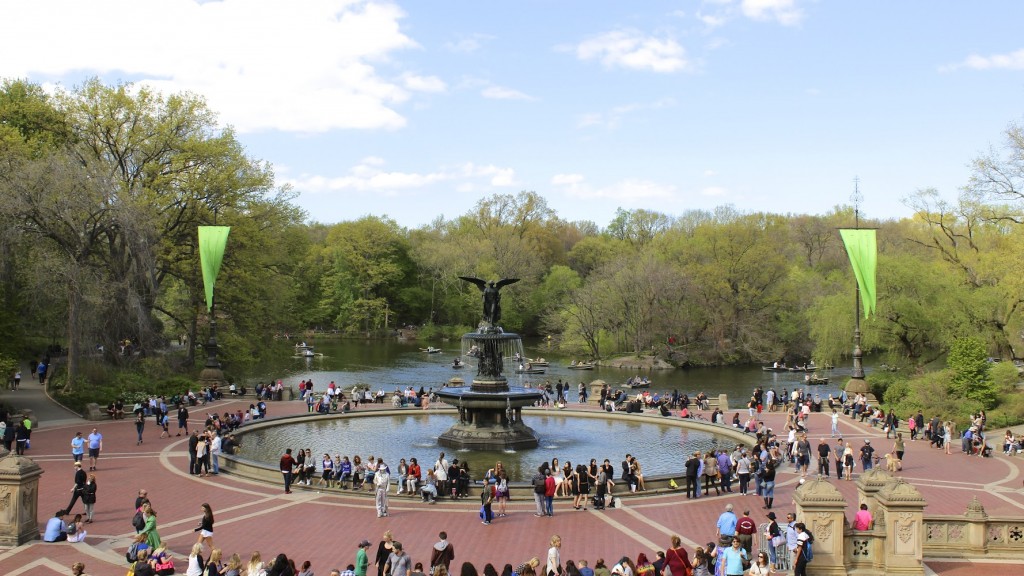 Travel to the other end of the Mall, and you will find one of the main attractions of Central Park, Bethesda Terrace and Fountain.  The fountain, considered the 'heart' of the park, is one of the most recognizable and most filmed locations.  The statue at the top of the fountain, "Angel of Waters", pays homage to the Croton Aqueduct, which was once a central source of fresh water to the city.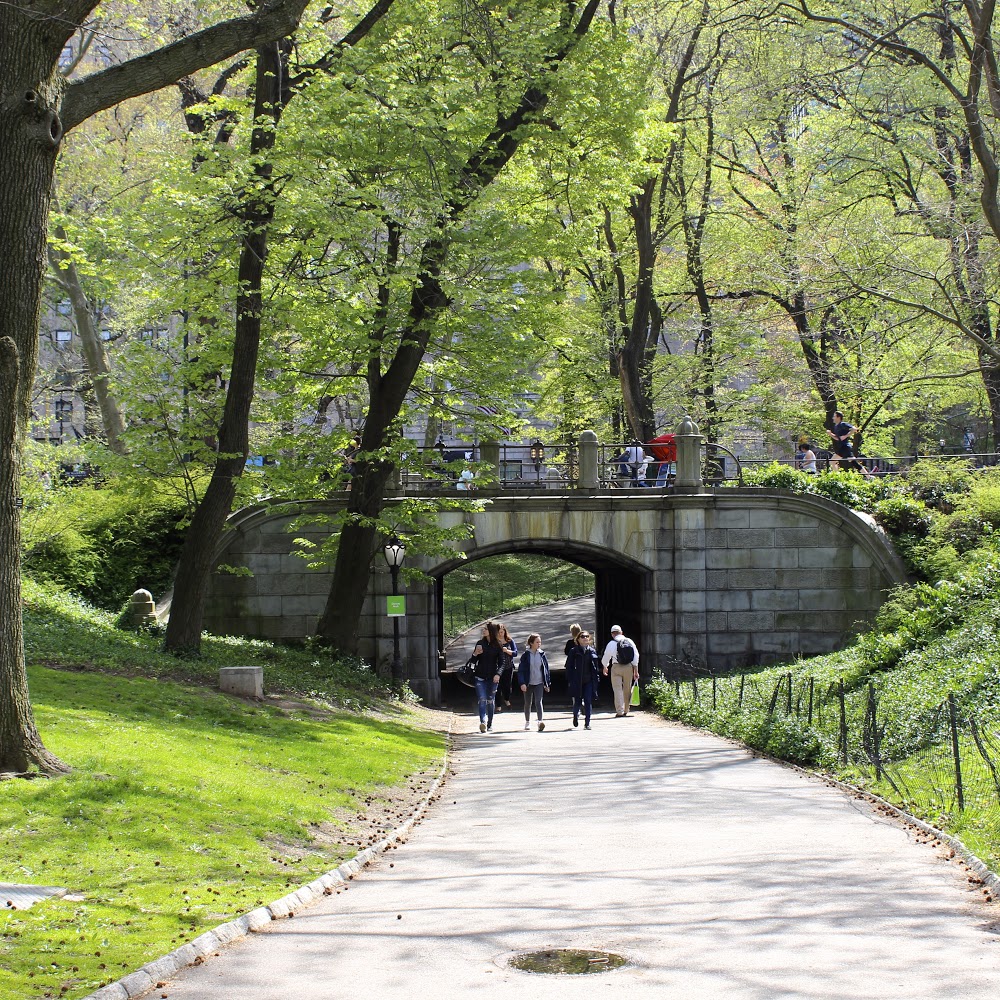 Throughout the entire park, you are treated to scenic walkways and beautiful green foliage.  Archways like this one are common in the park's architecture.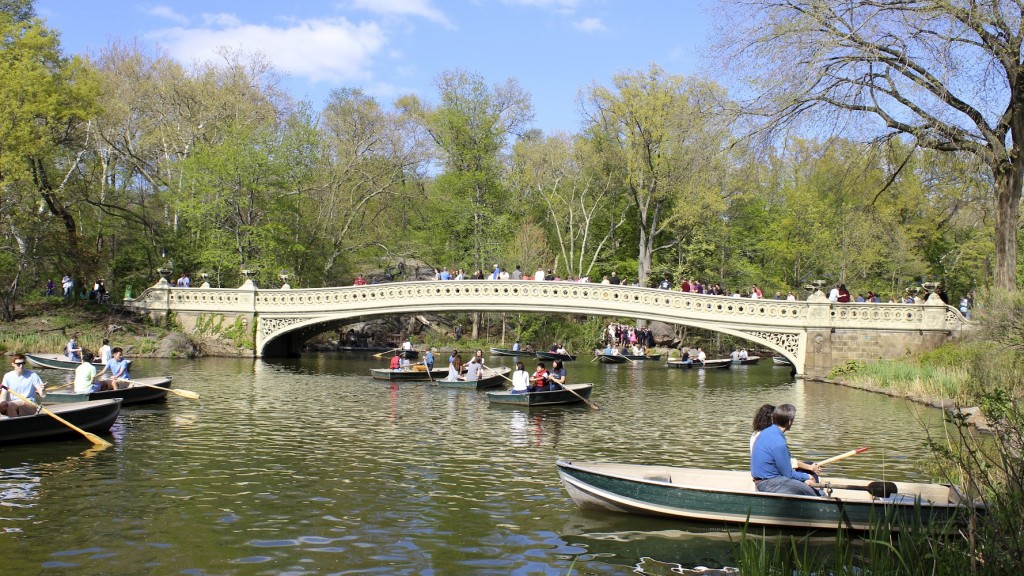 Near the fountain, you will find the Lake, over which crosses Bow Bridge.  Sixty feet in length, it is one of the most beautiful cast iron bridges in the world, and another familiar sight in many films.  The Lake is a popular spot for rowboats and relaxing near on spring days!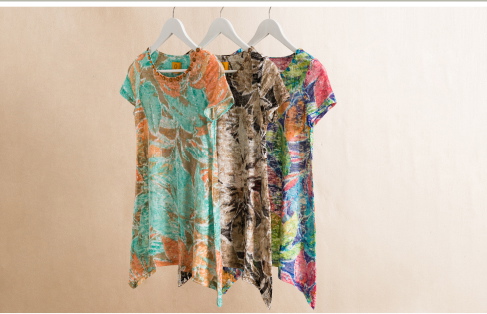 Our exclusive printed tees, with their vibrant colors and pretty hemlines, are another must-have this season! We find our Ruby Rd. style in these best selling tops, in weekend comfy chic!
We are inspired by what you love to wear!  Please share your Ruby Rd. style with us on Facebook, Instagram or Twitter, using the hashtag, #myRubyRdstyle, and join in our style sharing!
Photo credit – www.gotannyc.com
As our Central Park sightseeing winds to a close, we can't wait to indulge in a delicious meal and a sumptuous cup coffee!  Our friends at Gotan have us covered!  With two locations, they are easy to find no matter where you are in the city, and their light and seasonal menu has something for every taste!  Check out their website, www.gotannyc.com, and follow them on Instagram, #GotanNYC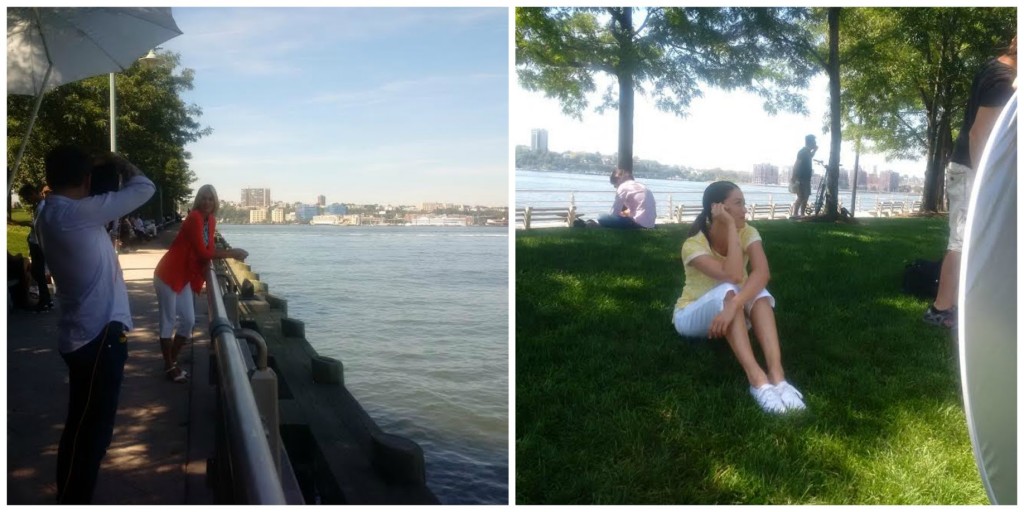 Photo credit – Ruby Rd.'s own Wendra Raley, behind the scenes
As we leave Gotan's Midtown location and head toward the Hudson River, we stop by one of our scenic photo shoot locations, West Side Park!  Earlier this spring, our models shared their Ruby Rd. style along this famous river, with New Jersey in the background.  Andressa is sitting pretty in our bestselling white capri with a pop of yellow for a look that stands out.  Kristen relaxes with effortless charm in this season's bold color mix and cascading cardigan.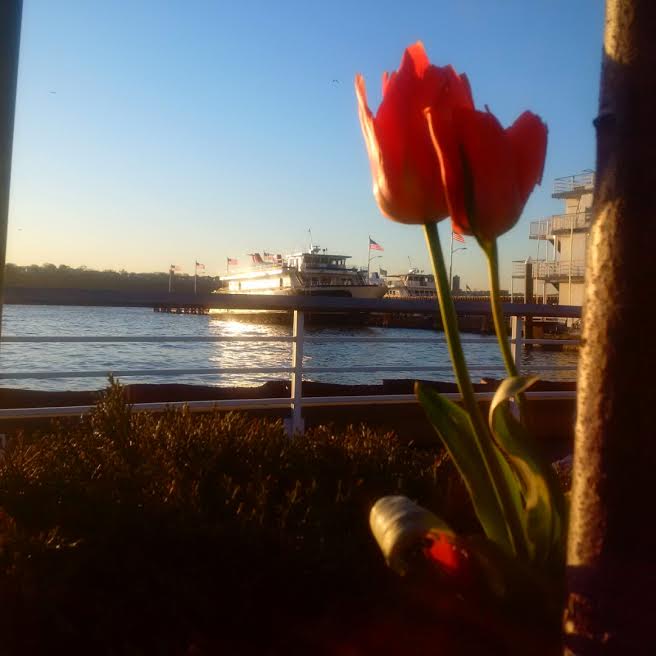 Photo credit – Wendra Raley
Arriving at the Hudson River Ferry, we are greeted once more by signs of spring amidst the hustle and bustle of urban life.  Inspiration from nature can be found anywhere, even in the busiest city in the world, New York City!