Maine is a visually stunning location year round.  Spring's blooming forests, summers spent at the ocean, fall leaf peeping, or winter skiing, Maine offers the best of all four seasons!  Jessica, Ruby Rd's print designer, shared her recent Maine vacation memories with us.  After viewing these photos, we can't wait to get there!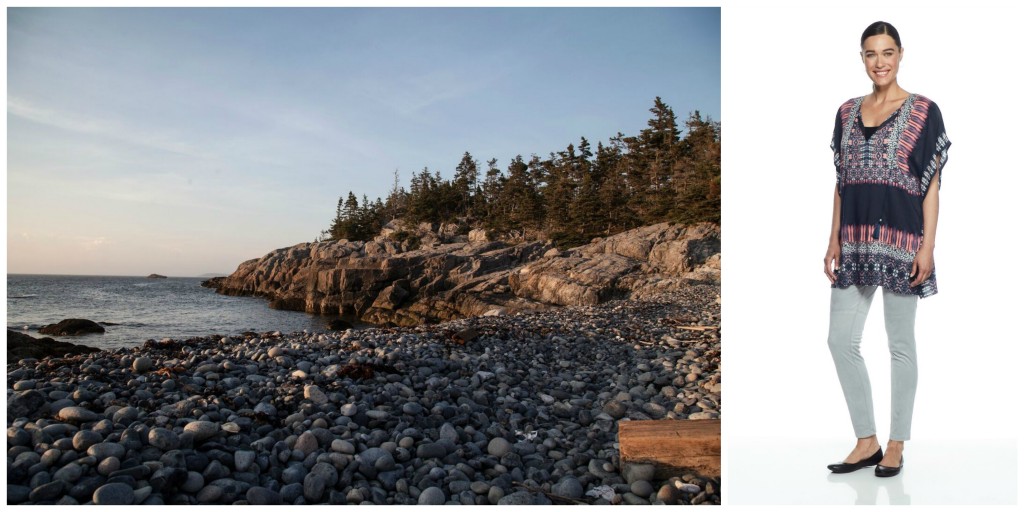 Photo Credit: August Popkin
A morning walk along Maine's rocky seafront is a perfect time for reflection and relaxation.  Dress for the occasion in our split neck, airy printed top, in the rich hues of the Maine skyline.  This versatile top can take you from summer through the still-warm days of fall, then layered when the cooler autumn days arrive.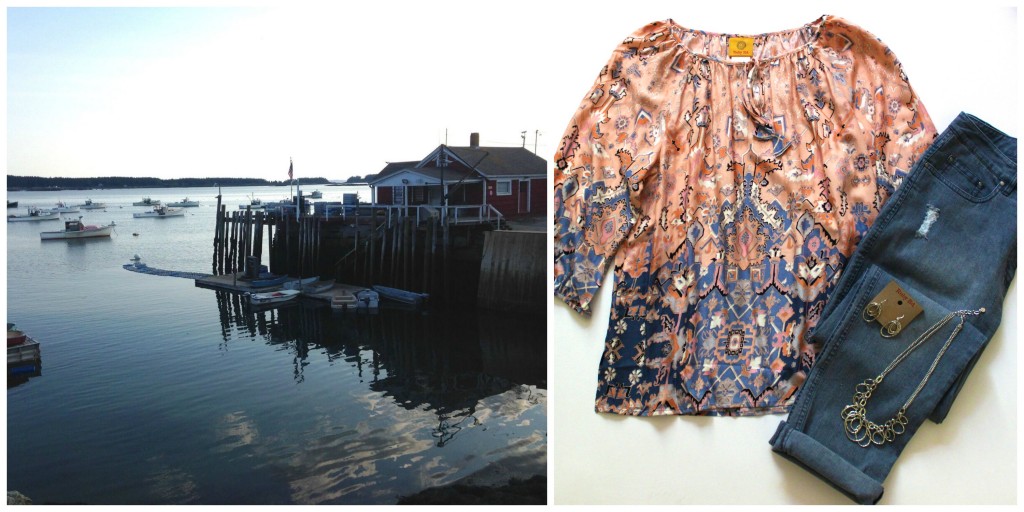 Photo Credit: Jessica Schreuders
New England has a long love affair with the ocean.  Maine has fishing and sailing in its veins, as you discover when you visit its weathered and beautiful docks and piers.  Pair our tapestry print peasant top with our bestselling boyfriend jean for a seaside walk, then add Ruby Rd's exclusive jewelry to elevate your style for dinner out with friends and family!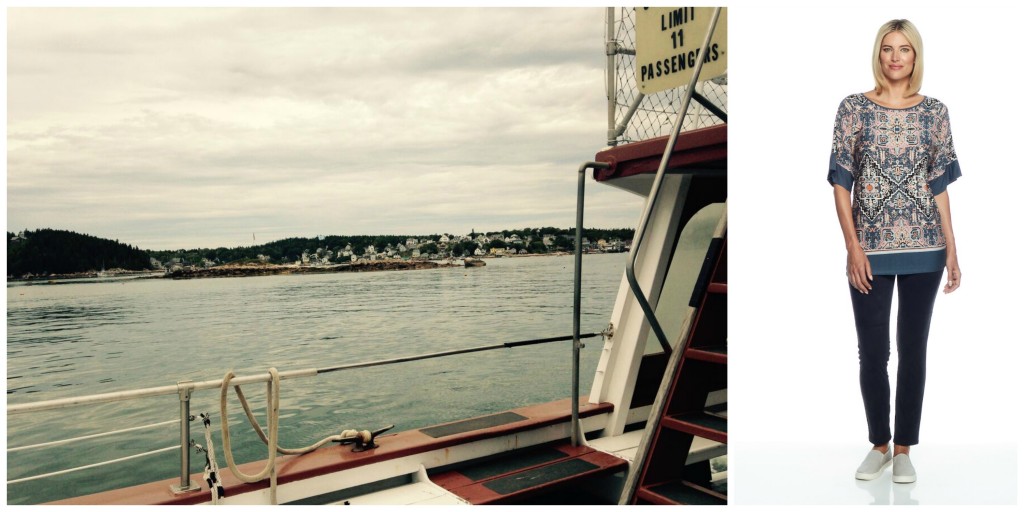 Photo Credit: Jessica Schreuders
No trip to Maine would be complete without a day spent on the water!  The view of coastline from the water is spectacular, and you may even get a glimpse of one of the six species of whales that call the gulf of Maine their home!
Our 'Dream Weaver' placement print top is perfect for a day sail, or a day spent dreaming of sailing!  Its denim-friendly design is versatile, and is perfect for travel!
Love this print?  You can download this design, and many others, as wallpaper for your phone, tablet or computer!  It's free and easy to download, just visit this link to get started:
http://living.rubyrd.com/post.php?s=our-july-wallpaper-is-here-6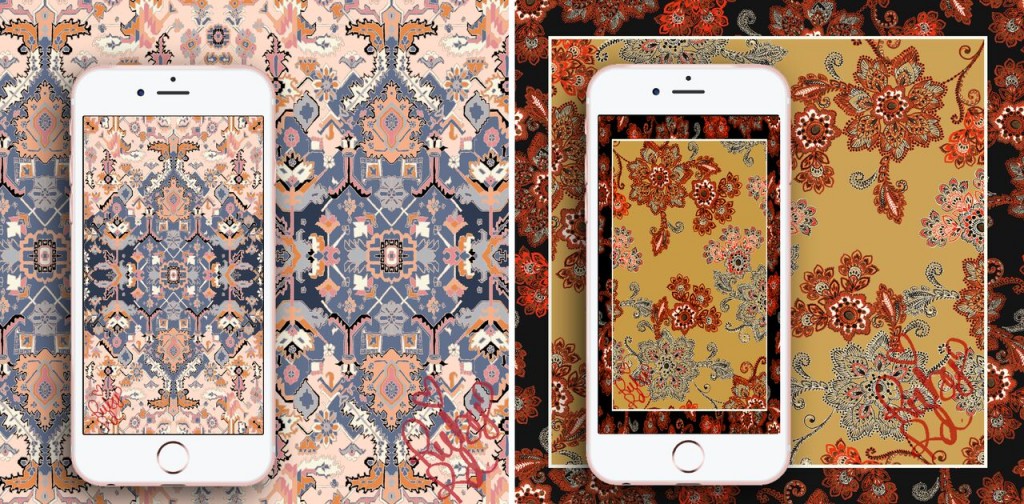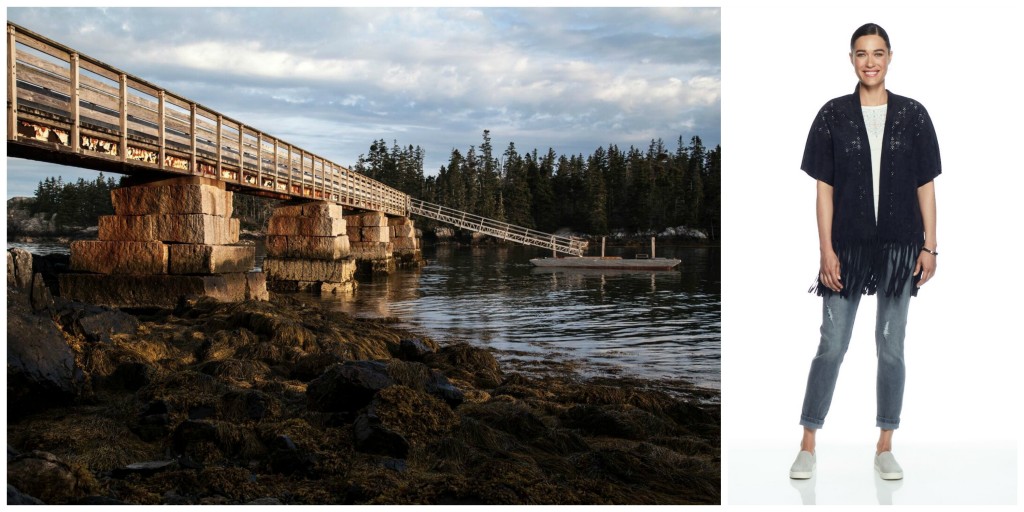 Photo Credit: August Popkin
Maine is famous for its many wooden bridges, and many of them are centuries old!  If you visit Maine, there are maps and tours that will lead you to the historic landmarks.
Transform your summer looks to fall with our open front vegan suede vest with a fringe hemline.  This versatile vest can be paired with tops for a lightweight autumn layer.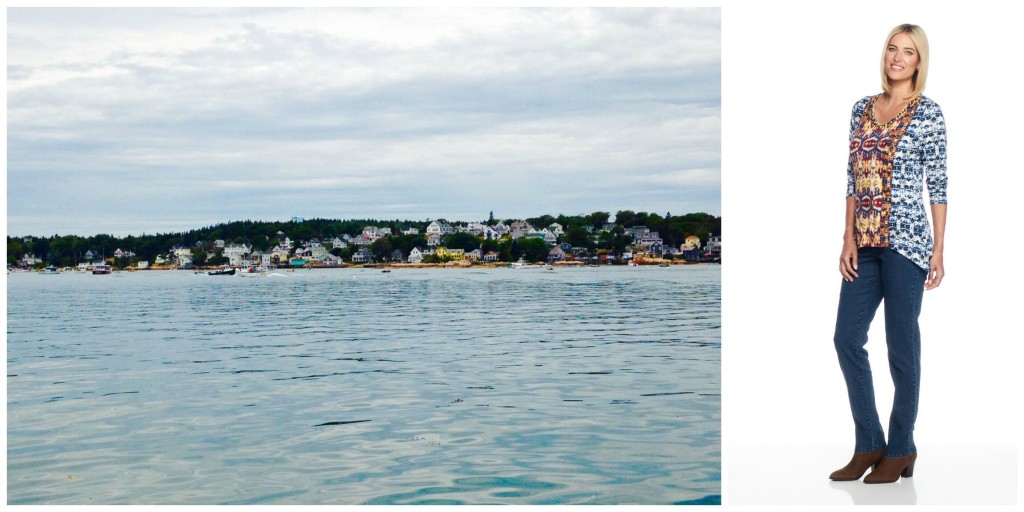 Photo Credit: Jessica Schreuders
Like Maine's bridges, the oceanfront houses along the coastline are picturesque and full of history.  Many have been passed down from generation to generation in the same family, and no two are the same.  Viewing these homes from the water is like watching a painting come to life!
Here's a fall sneak peek!  Greet autumn in Ruby Rd. style with our embellished top in rich hues, with a touch of metallic gold for a modern look.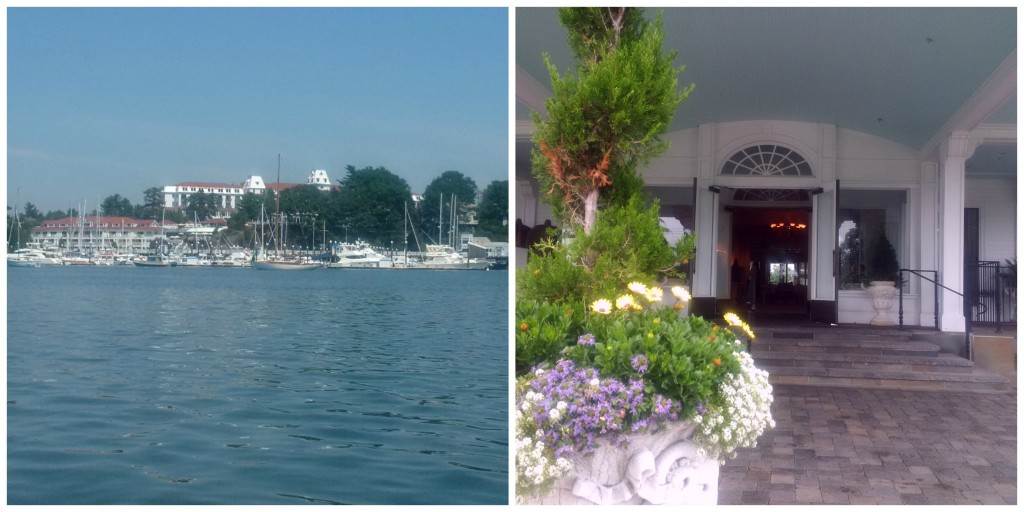 Photo Credit: Wendra Raley
Wentworth by the Sea is a hotel steeped in New England history, and an incredible place to stay during your visit! Originally one of 400 grand hotels along the coastline, it hosted royalty and celebrities throughout the 20th century.  After falling into disrepair in the 1980's, it was revived through the actions of the local community and purchased by a new investment company, which restored it to its original beauty.  The hotel and its harbor are a must see on a trip to Maine!
To read more about this amazing attraction, visit their website, http://www.wentworth.com/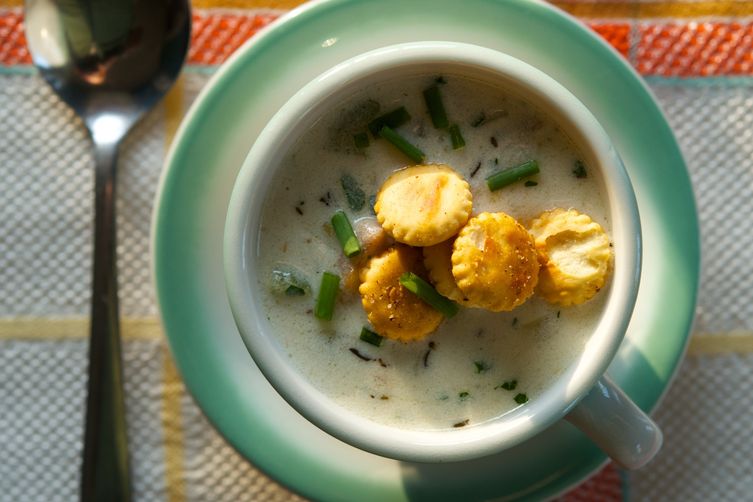 Photo credit: www.food52.com
Maine is synonymous with amazing seafood!  If you can't make the trip this season, try this recipe for classic clam chowder from Food52!
https://food52.com/recipes/15962-new-england-clam-chowder-with-old-bay-oyster-crackers
Makes 8 six ounce servings
For the crackers
5 cups oyster crackers
1 tablespoon Old Bay Seasoning
a two finger pinch fine sea salt
2 tablespoons vegetable oil
For the soup
2 eight oz. bottles Bar Harbor clam juice
2 six oz. cans Bar Harbor clams, chop them if they are whole, juice drained and reserved
4 ounces bacon, diced
1 tablespoon unsalted butter
2 cups yellow onion, peeled and small dice
1 cup celery, washed, trimmed and small dice
1 tablespoon garlic, peeled and minced
1/8 teaspoon fennel seed, crushed
1 1/2 teaspoons dried thyme
2 dried bay leaves
2 tablespoons all purpose flour (optional, depends on if you want thick chowder or not)
2 cups yukon gold potatoes, peeled and 1/2 inch dice
16 ounces 1/2 & 1/2
kosher salt and fresh ground white pepper
1 tablespoon chives, minced
1 tablespoon flat leaf parsley, minced
For the crackers, preheat the oven to 350 degrees. Combine the oil, seasoning and salt in a mixing bowl. Add the crackers and toss to coat them well with the seasoned oil. Spread then out on a baking sheet and bake them for 10 minutes or until they start to take on a little golden color. Remove them from the oven and let cool.
Place a 3 1/2 quart heavy bottomed saucepan over medium heat and add the bacon. Let the bacon render its fat (you should have about two tablespoons of fat in the pan) and saute it until it becomes crispy, not crunchy, and starts to brown.
Add the butter, onions and celery. Saute the vegetables until they are tender but do not brown them. Add the garlic, thyme and fennel. Saute until the spices become fragrant, not even a minute.
If you aren't using the flour add the clam juice and move on to the next step. If you want thicker chowder add the flour and stir it around letting it absorb the fat. Once the flour starts to smell the slightest bit nutty add the clam juice and the reserved clam juice. It is important to cook the flour taste out of the flour so be patient and make sure you cook it long enough.
Add the half and half. Bring the liquid to a boil and add the potatoes. Bring it back to a boil and then reduce the heat to the lowest simmer setting your stove has. Taste the soup to see how salty the clam juice is, adjust the seasoning by adding more salt if necessary. Add a few grinds of white pepper. Add the clams, stir then cover the pot and let it simmer for 30 minutes or until the potatoes are cooked through.
Turn off the heat and let the chowder sit, covered, for one hour to let the flavors meld.
Before serving add the parsley and chives. Adjust the seasoning and reheat the chowder till hot. Serve.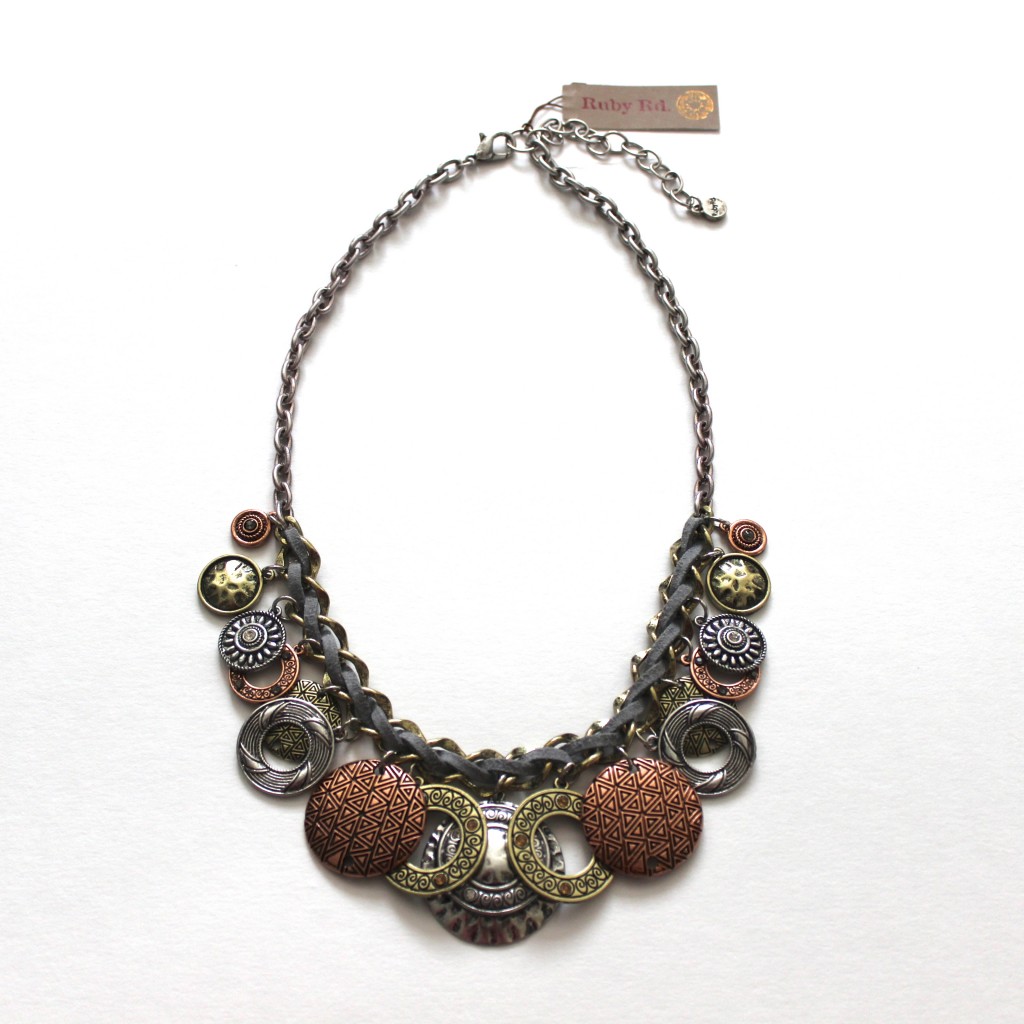 It's a giveaway, perfect for fall!  To win this fabulous necklace, all you have to do it take a photo of yourself in your favorite Ruby Rd. style, or take a photo of the pieces on their own.  Share them on our Facebook page with the hashtag, #myRubyRdstyle.
We are inspired by your unique look! Join in the style sharing!
Visit www.facebook.com/rubyrdfashion for complete contest rules!