Style
Style Report: Things to Do and Wear, Labor Day Weekend and Beyond…
August 24, 2017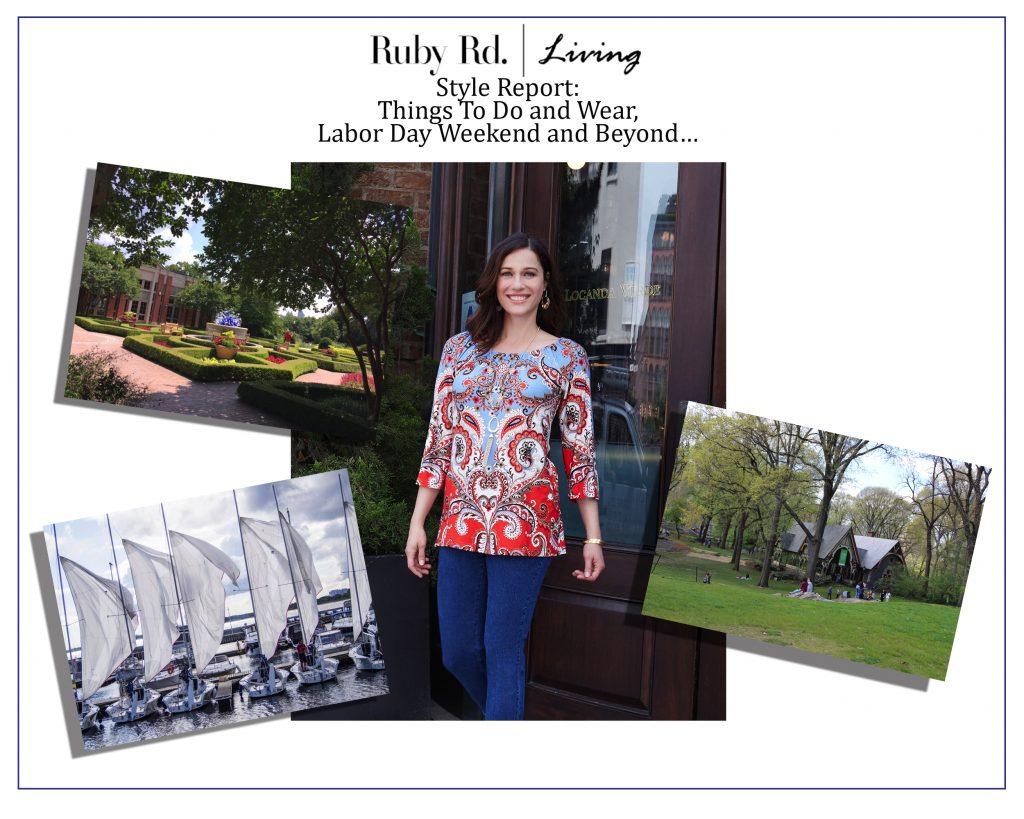 As the sun sets on this summer season, we like to make the most of the warm days and cooler evenings.  Read about the Ruby Rd. team's plans and favorite looks for the upcoming holiday weekend: from backyard soirees to picture perfect picnics!  Shop this editorial for our top holiday weekend style picks and fun time tips!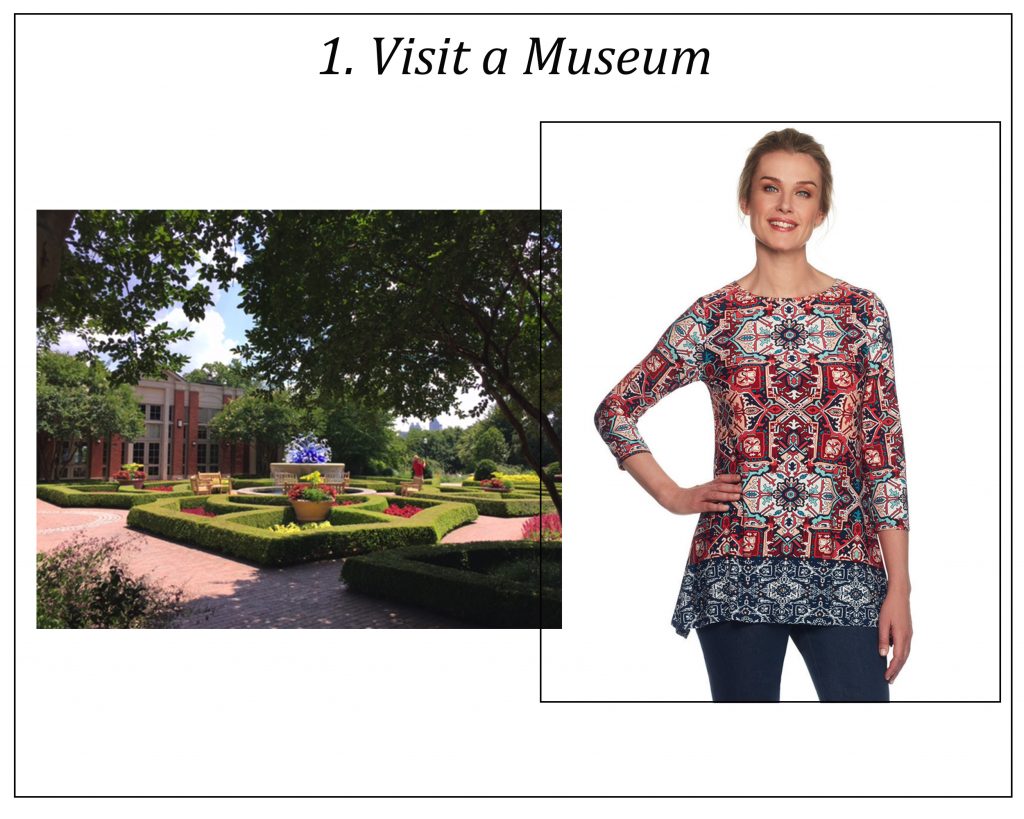 Photo Credit (Garden): Sharon Ollivierre
A trip to a local museum can be the highlight of any stay-cation! Enjoy the diverse culture and variety of exhibits in a large museum, or the quaint charm of smaller museums near you.   A visit to a museum exhibit can be the perfect escape, and can expand our horizons in much the same way as traveling to new locations.  It's the perfect activity to enjoy either with a group of friends, appreciate on your own,  or make new friends!
Museum Tip: Explore smaller, less visited museums, as well as the main ones in your area.  Often guides have more time to spend sharing insights and knowledge.
What to Wear:
Our Exclusive Border Printed Tunic, inspired by the rich traditions in folk art and textiles, is flattering and easy to wear over our best-selling, smoothing waist band, pull on jeans. Accents of paprika and coral are the perfect combination for wearing now and into the fall!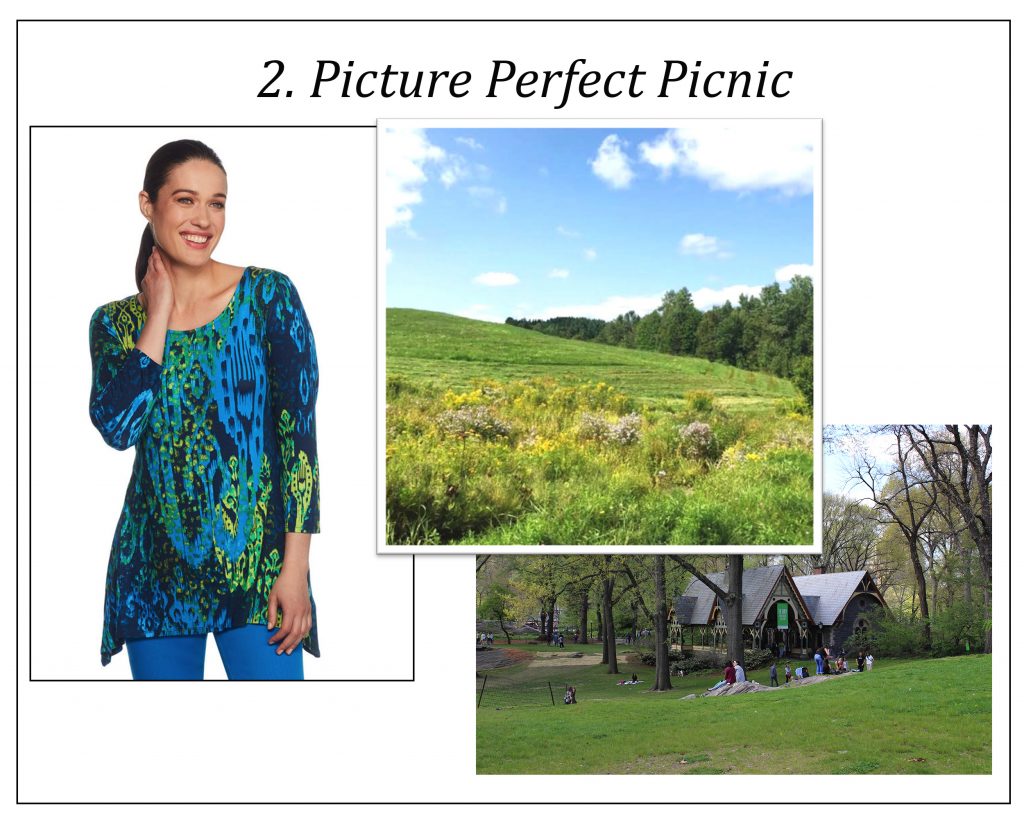 Photo Credit (Quiet Meadow): Lynn Bailey Witty
In your neighborhood park, backyard, or favorite quiet spot, a picnic can be an ideal way to spend a weekend afternoon!  A casual outdoor meal is a relaxed setting for gathering friends and family, a great way for creating special memories, and capturing some amazing photos with those you love.  The greenery and light in these natural settings make capturing beautiful photographs easy.
What to Wear:
The relaxed cut of our Paisley Ikat printed tunic with a flattering cut away hem detail is versatile.  Try this effortless piece in watery hues, for a look that is picture perfect!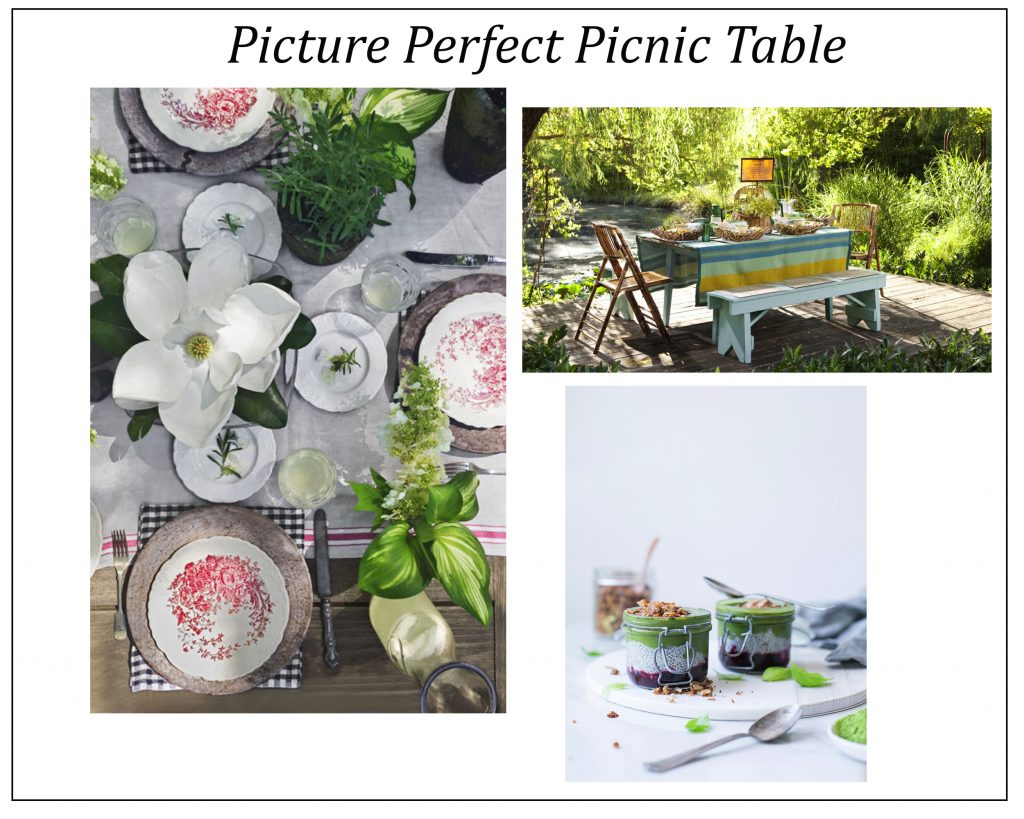 Photo Credit (Tables): Country Living; (Jars): The Healthy Hour
Picture Perfect Picnic Table Tip:
We love how Country Living reinvents the use of a blanket, to double as a table cloth. Instead of disposable plates, try wax paper lined, and easy to stack and carry baskets. Try a picnic setting with a predominately green color scheme and add lively pops of color. Mason jars are great for packing healthy snacks or individualized drinks.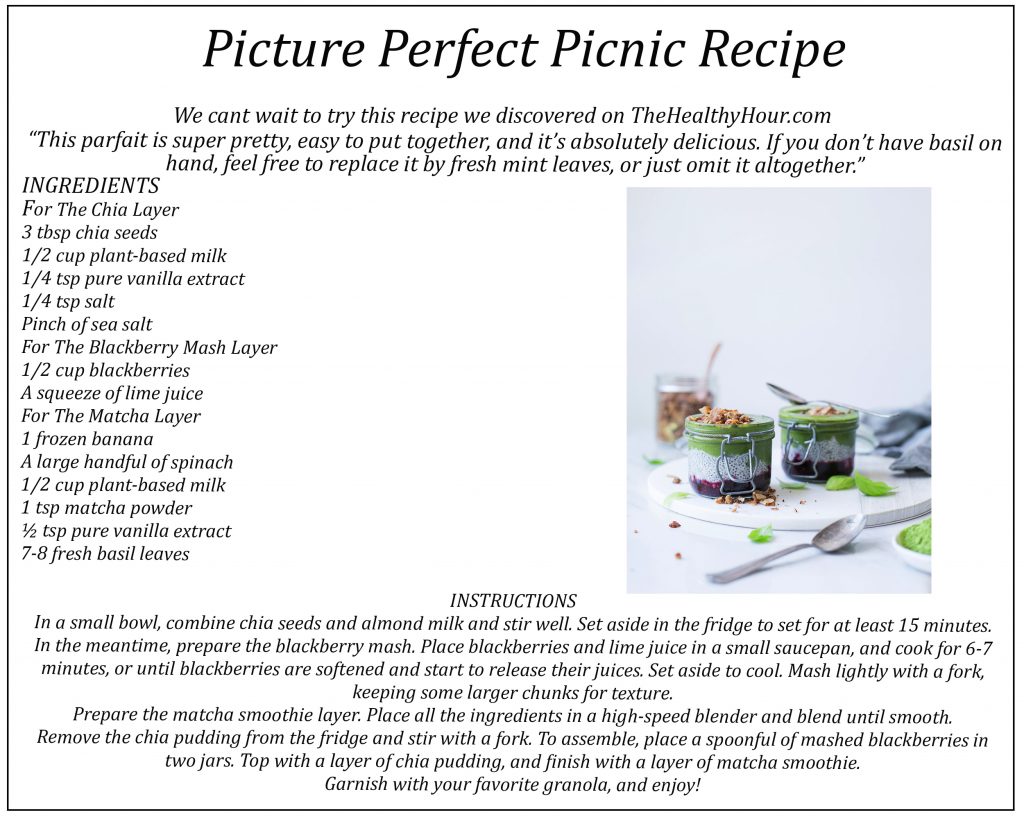 Photo Credit (Curacao):

Yani

Jimenez
Reserve a table with an ocean view this Labor Day! Beachfront dining is the perfect mix of romantic and relaxing, glamorous and casual. Savor the sound of lapping waves and the taste of salty air while you enjoy a effortlessly fabulous meal with friends. No ocean nearby? Many local lakes boast restaurants with scenic views!
Tip: Breezes can quickly cool a warm evening. We like to bring our essential soft, stretch jean jacket to layer on and look chic.
What to Wear:
Our artisanal inspired paisley print is irresistible in an easy-cut, peasant styled tunic! Opulent red is unexpected and elevates denim friendly blues. This piece is a stylish way to top off your day!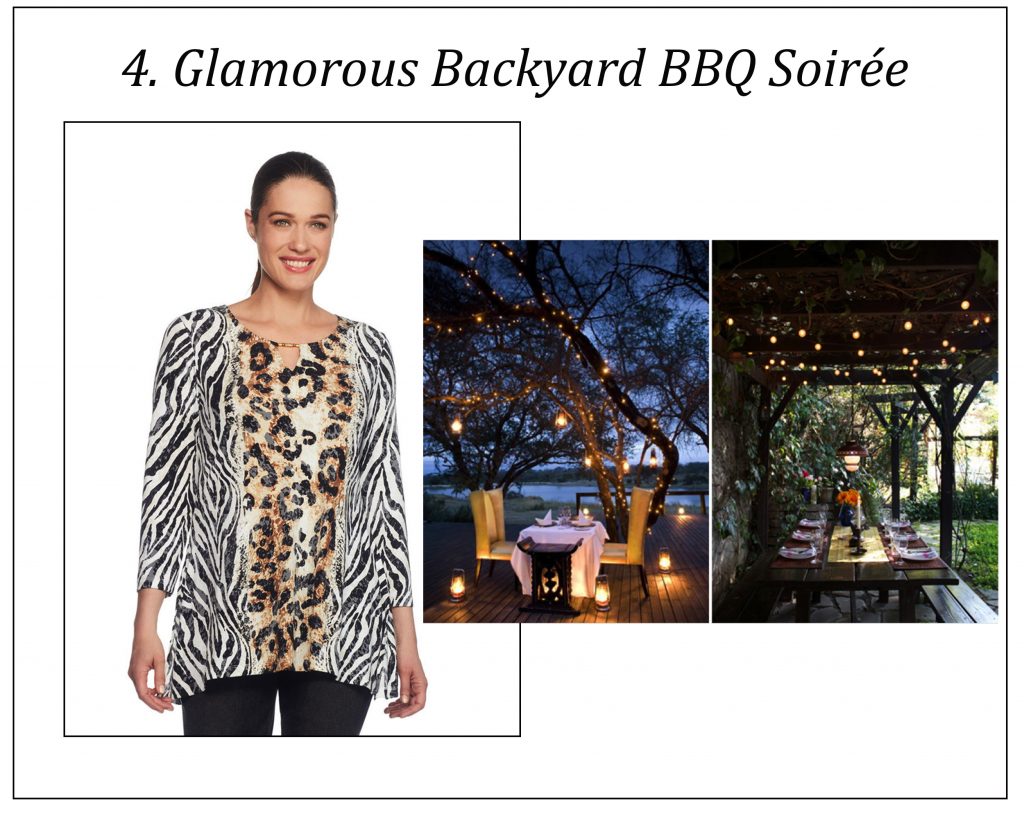 Photo Credit (table settings): Honestly Yum
Move your dinner party outside!
Late summer evenings are perfect for enjoying fine dining al fresco. A yard can be an oasis, why not host a chic BBQ dinner party there? We love spending evenings with family, friends and fine food. The design team is always looking for creative ideas. These outdoor setting inspirational ideas from Honestly Yum are so stylish!
Table Tip: Transform your outdoor space with elegant furniture, lighting and tableware, for a chic outdoor soiree! Elevate the meal, because everything tastes better when served on a pretty table.
What to Wear:
Our black , white and neutral mixed animal printed tunic in a silky feeling knit is a chic approach to wear now and into the Fall season dressing. Mix it with our best selling, fit to flatter, pull on pants in black denim for a relaxed look now,and wear later with our black pull-on tech fabric for a modern look that goes from dawn to dusk.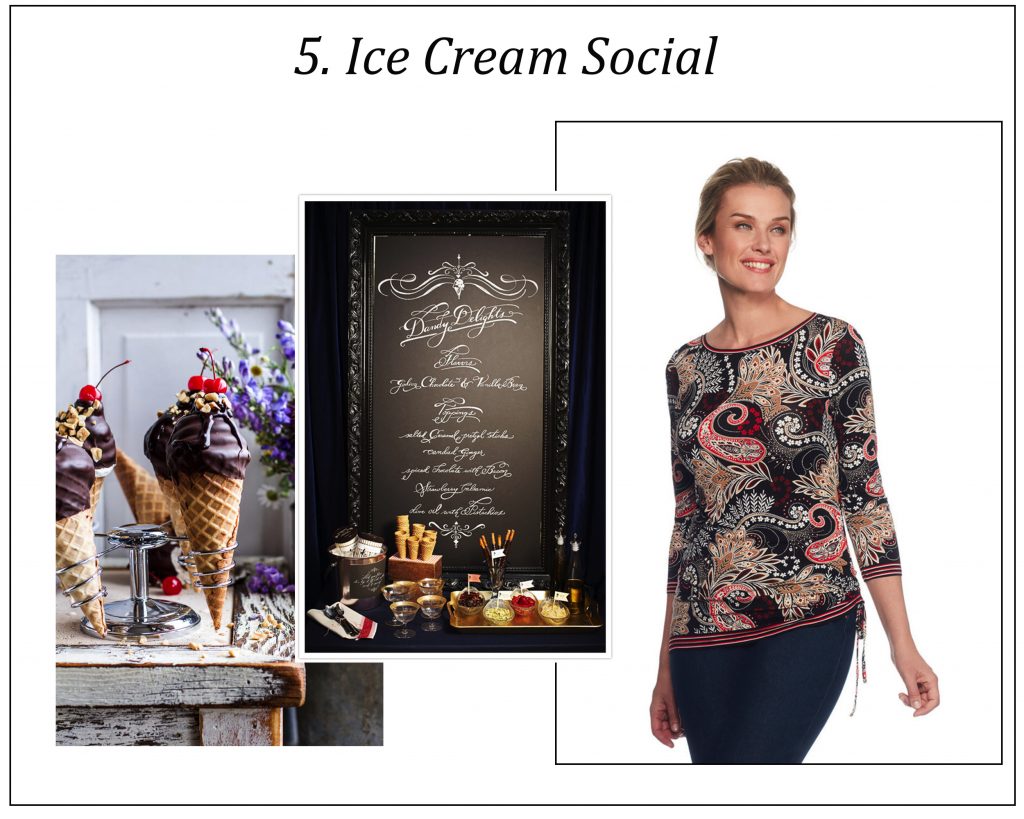 Photo Credit (Cones): Half Baked Harvest; (Menu): Design Indulgences
What to Wear:
Our best selling side ruched tee is a chic staple with endless style possibilities. The Paisley print was created in our New York City design studio, and balances rich red with neutrals to match back to a variety of bottoms.
We cant wait to try this recipe from Half Baked Harvest! Download and print this free recipe card with our exclusive print design.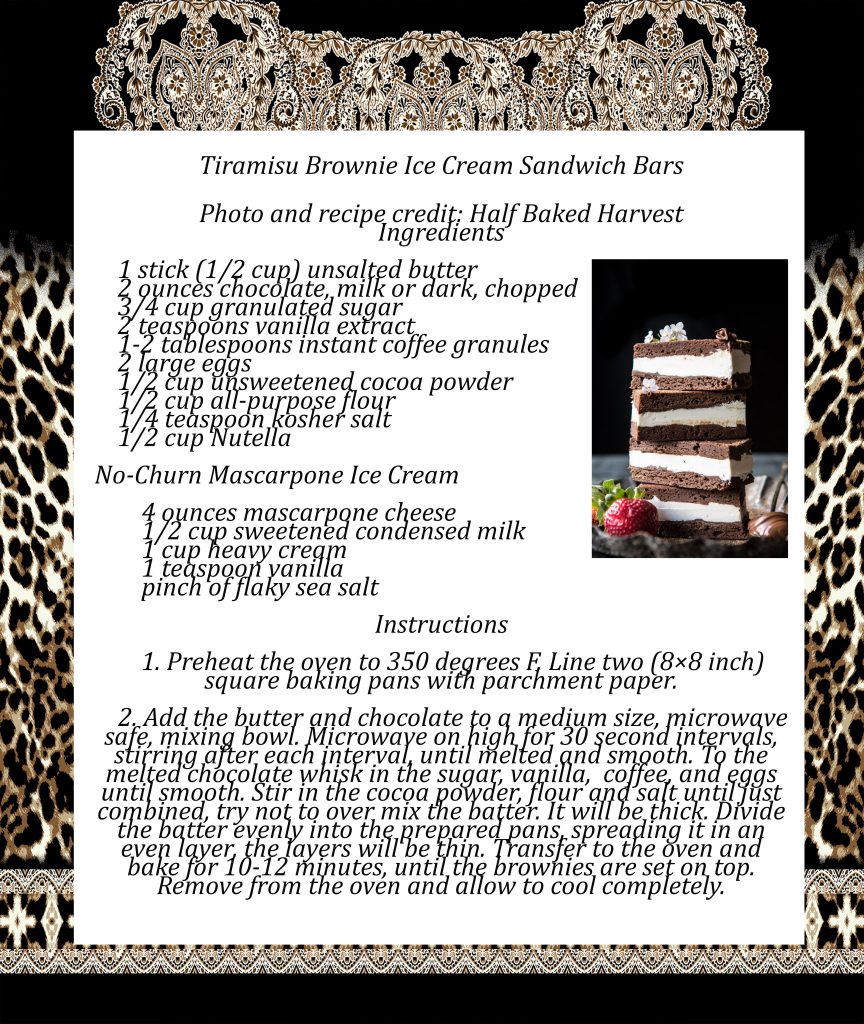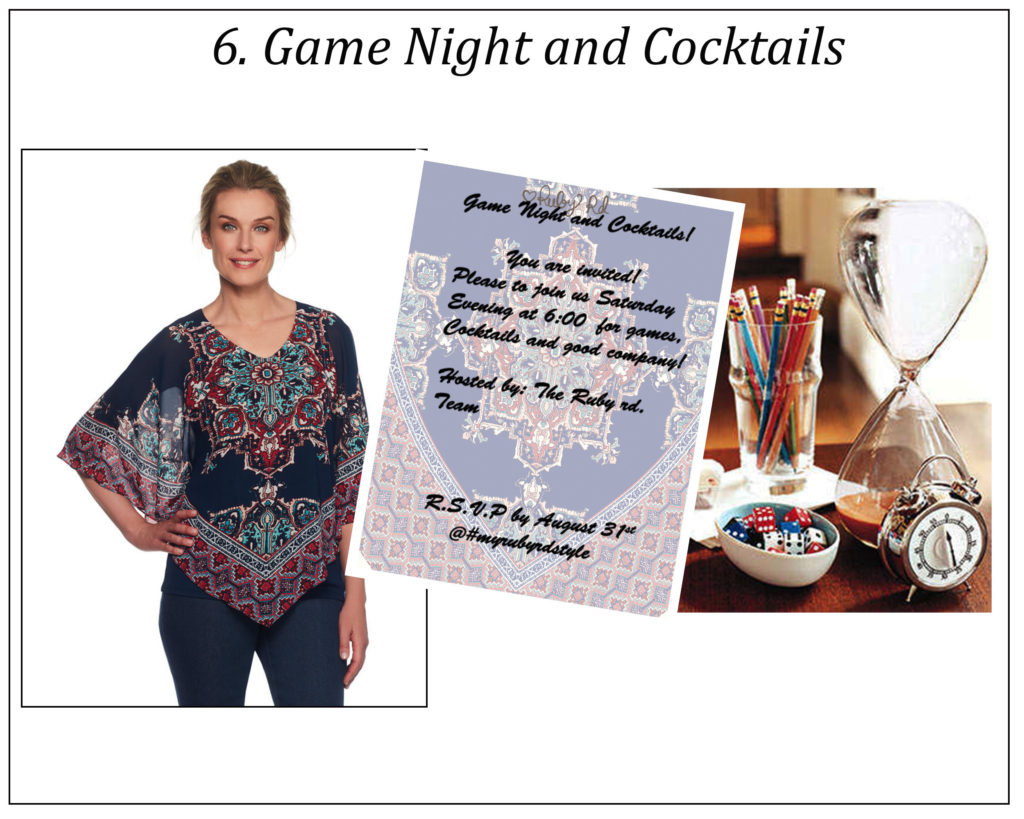 Photo Credit (Games): Real Simple
We love the idea of hosting  a good old-fashioned game night. It's a great way to get together with family or friends for a night in, that feels like a night out (without the expense)! The nostalgia of long treasured board games guarantees good times and new memories.
Game Night Tips: Just like a book club, organize a game club that gathers once a month. Each host can research a new selection of games to offer.
Chic Invitations: Download and print our free exclusive notepaper for hand written invitations!
What to Wear:
Our exclusively designed Byzantine Scarf print in a layered top is the perfect outfit maker and embraces the spirit of this ancient craft. It offers look of two pieces, but it is one! Dress up our ultra comfortable pull on jeans with this statement top.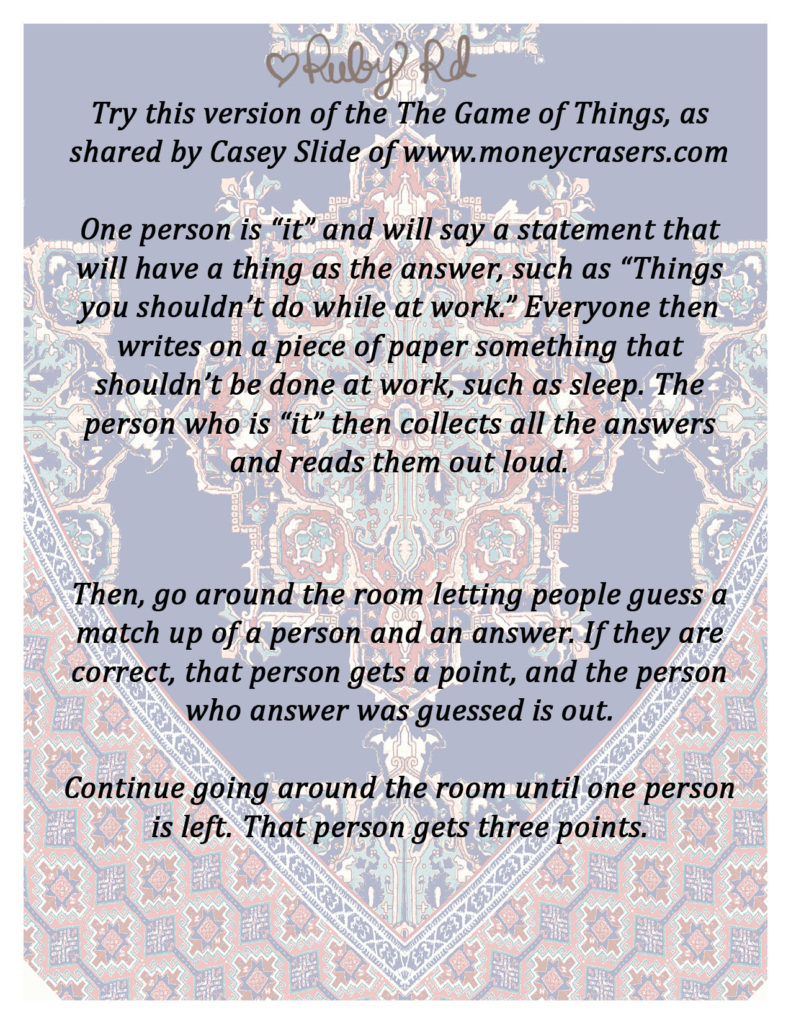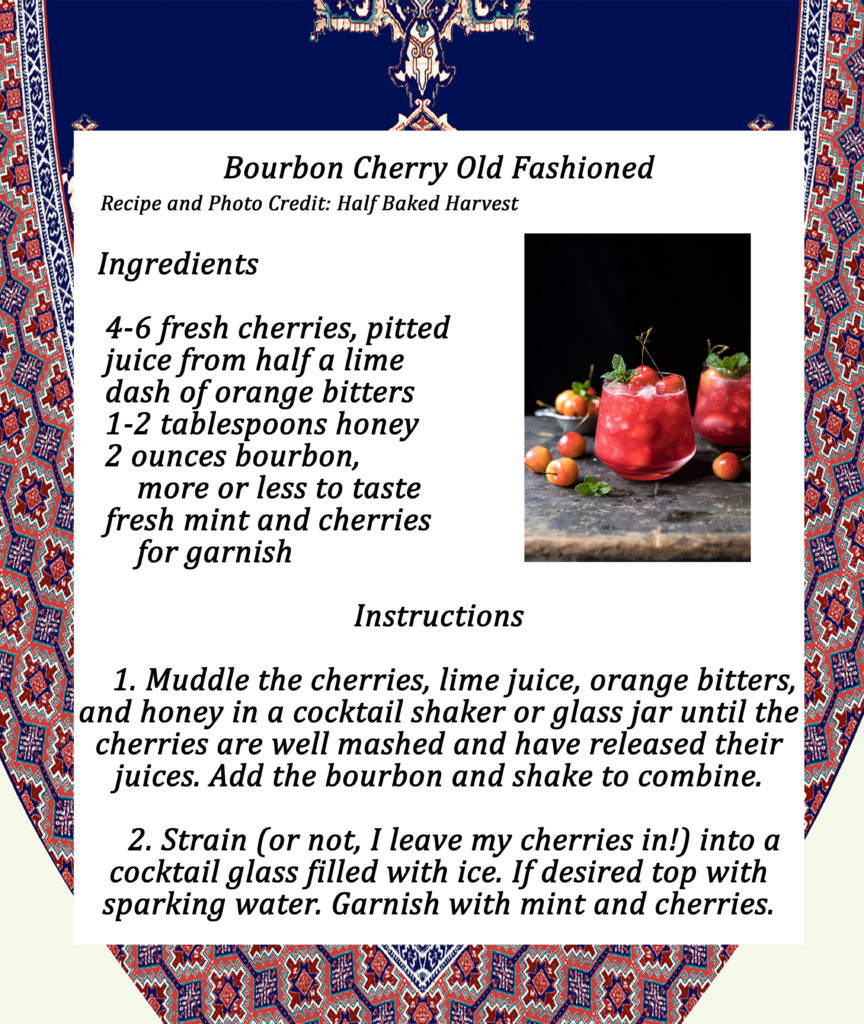 For many of us, a relaxing day on the water is the epitome of time well spent.  Boating is a perfect activity to end the summer, and is a peaceful way to gather with friends and family.  A sunset cruise provides great photo opportunities!
What to Wear:
Chambray for any day! Our super soft tencel chambray tunic brings a luxurious feel to an everyday favorite! The high-low hem detail is flattering and versatile. Capture the spirit of chic: style this top easily with white pants for now, and our neutral animal print jeans or knit twill pull on jeans for fall.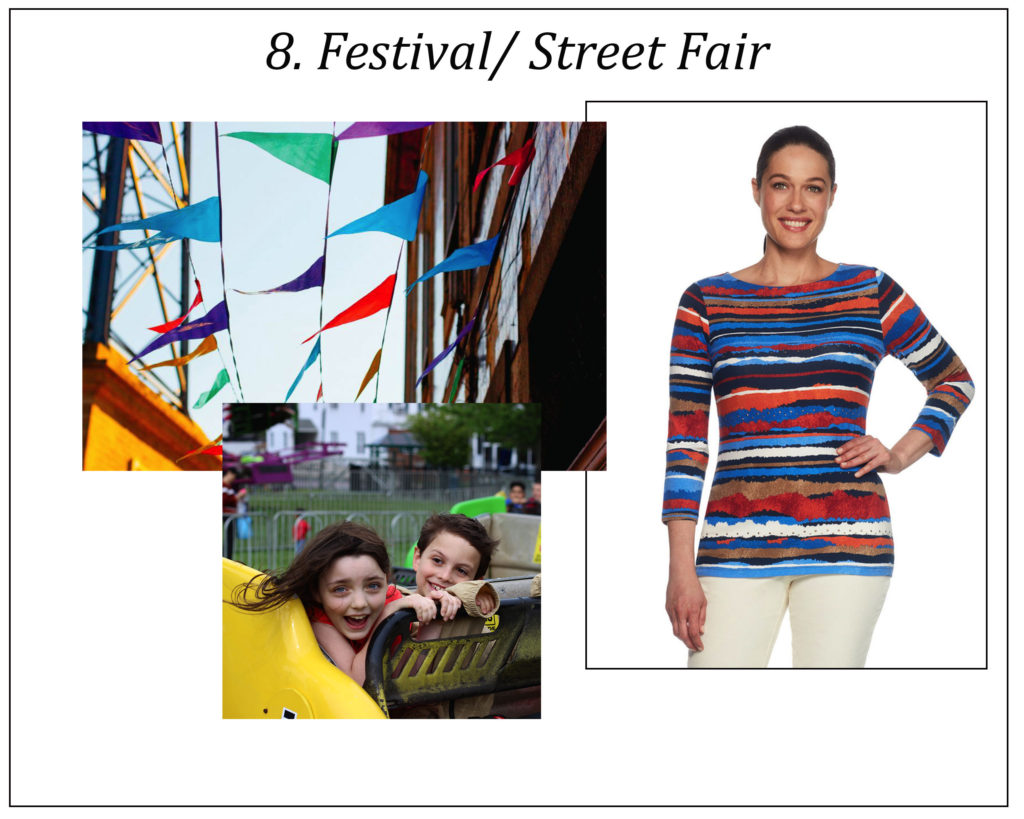 Many towns hold a local fair or festival over the long Labor Day weekend as a last hurrah of the summer.  These events are a nice reminder of what you already love about your town, or learn something new!  You can sample fabulous food, support local artisans, and bring out your inner child while enjoying thrilling rides.
What to Wear:
Festive Stripes, with a touch of metallic beads in a lush Earth toned palette, pairs perfectly with denim or soft white bottoms!  For cooler days and evenings, layer on our best selling jean jacket.
Style Tip: Top off our boot length stretch denim skirt with this top to elevate your denim dressing!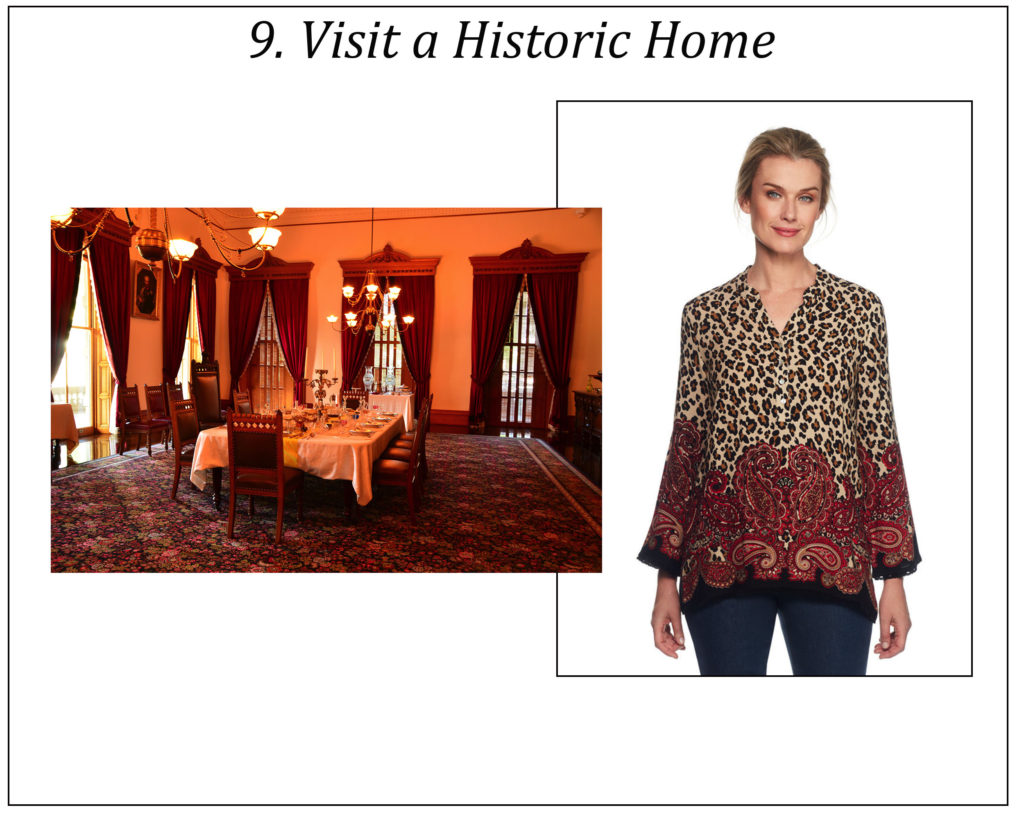 Photo Credit (Hawaiian Palace): Natalie Woodson
Dive into a piece of history with a visit to a historic home.  You can appreciate the beautiful architecture, antique furniture, and interesting stories of the families that once made each house a home.
Tip: Read up on the specific homes before you arrive, to better appreciate the history and features of each location.
What to Wear:
Your alluring sense of style is based in confidence and unique elements! Our inspired animal print combined with the elegance of a paisley border tunic is the secret to an enviable statement! Add our great fitting jeans for a modern look that is ultra comfy!
Style Tip:
This soft exclusively printed shirt is a top staff pick! The eternal appeal of an animal print with a rich red accent is irresistible!
We've loved spending our Summer with you!  You can now find your new Fall favorites in our web store, rubyrd.com!