Sugar Cookie Bars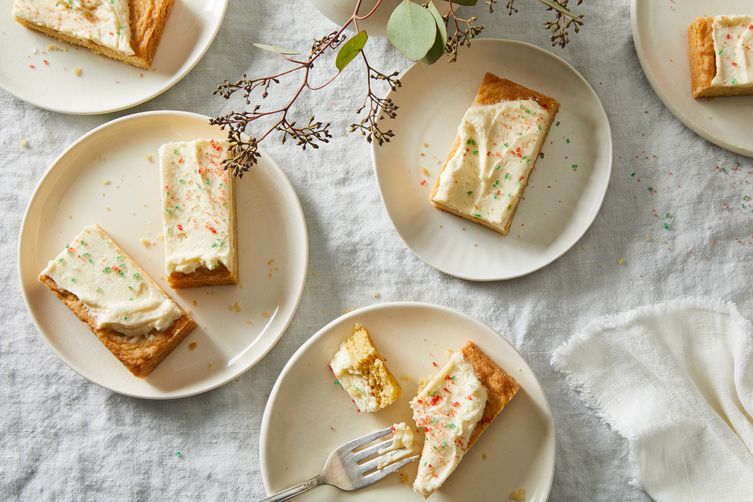 Photo and Recipe Credit: Food52.com
Makes: 24 cookie bars
Prep time: 30 min
Cook time: 15 min
Ingredients
For the sugar cookie bars
3/4

cup butter, at room temperature


1

cup sugar


1/4

cup light brown sugar


2

eggs


1

teaspoon vanilla bean paste (or vanilla extract)


2

cups flour


1

teaspoon baking powder


1/2

teaspoon baking soda


1/2

teaspoon salt

For the vanilla cream cheese frosting
1/2

cup butter, at room temperature


4

ounces cream cheese, at room temperature


2

cups powdered sugar


1

tablespoon heavy cream


1

teaspoon vanilla extract


1/4

teaspoon salt

Sprinkles, for decorating

Directions
For the sugar cookie bars
Preheat the oven to 350°F.
Using an electric hand mixer, cream together butter, sugar, and light brown sugar in a large mixing bowl. On a high speed, add in the eggs and vanilla bean paste (or vanilla extract) and beat until light and fluffy.
Turn the speed to low and add in the flour 1/2 cup at a time. Once all the flour has been mixed in, add in the baking powder, baking soda, and salt. Scrape down the sides of the bowl with a rubber spatula and and give the dough one last good mix.
Scrape the dough into a nonstick 13×9 baking pan or a jelly roll pan. Using an offset spatula, spread the dough into a thin layer to completely cover bottom of the pan. Bake for 15 minutes, or until the dough has risen slightly and is golden brown on top.
Remove from oven and let cool. While the cookies are cooling, make the frosting.
For the vanilla cream cheese frosting
Using a hand mixer, cream the butter and cream cheese in a large mixing bowl. On a low speed, little by little, add in the powdered sugar. Once all the sugar is incorporated, add in the heavy cream, vanilla extract, and salt. Turn the mixer on high and whip the frosting for about 30 seconds, or until fluffy.
Spread the frosting over top of the cooled cookies. Place the frosted tray of cookies into the fridge to let the frosting set, about an hour. Once set, use a sharp paring knife to cut the cookies into 24 squares. Sprinkle the top with holiday themed sprinkles and serve.