Culture
Travel Notebook: Our Favorite Places, Spring '17 Edition
February 21, 2017
Our daydreams, and our style, are focused on spring and travel! We'd love to share the inspirations for our newest looks, and take you on a virtual vacation to the islands of Hawaii!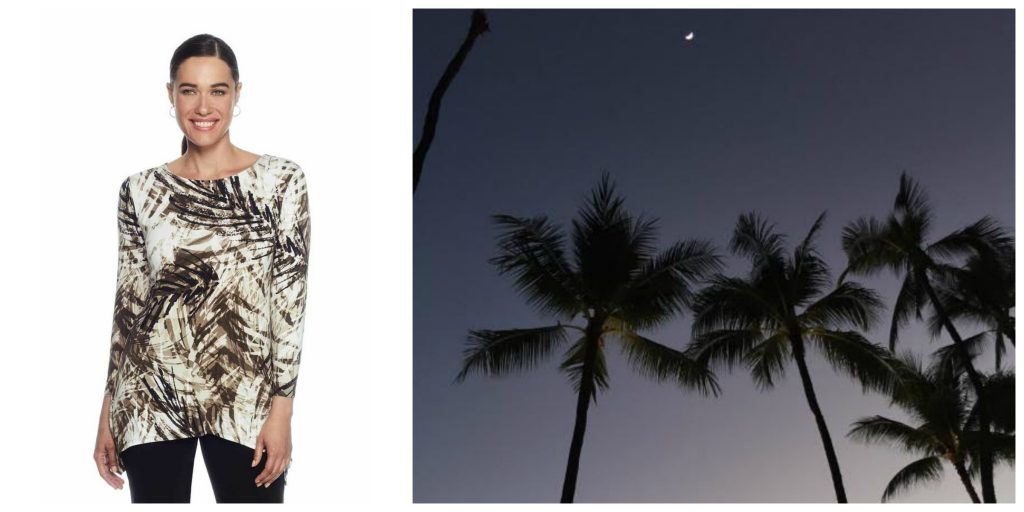 Photo Credit (Sunset with Moon over Waikiki): Natalie Woodson
Palm leaves and gentle breezes are our inspiration for this palm print tunic, available in three tropically inspired colors.   Waikiki is famous for its beaches, and no matter where you stay in this distinctive neighborhood; you are just a short walk away from the ocean!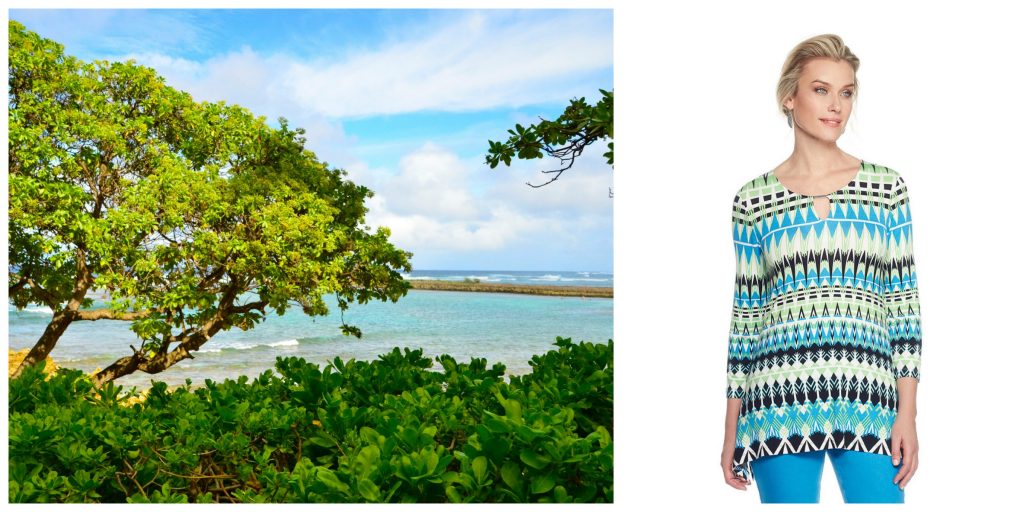 Photo Credit (Hawaiian Beach): Natalie Woodson
For this exclusive print top, we drew inspiration from the shapes and colors we find in the natural beauty of Hawaii. Once devoid of plant life, the islands became the lush escapes they are now with the help of early settlers who brought plants native to their own countries.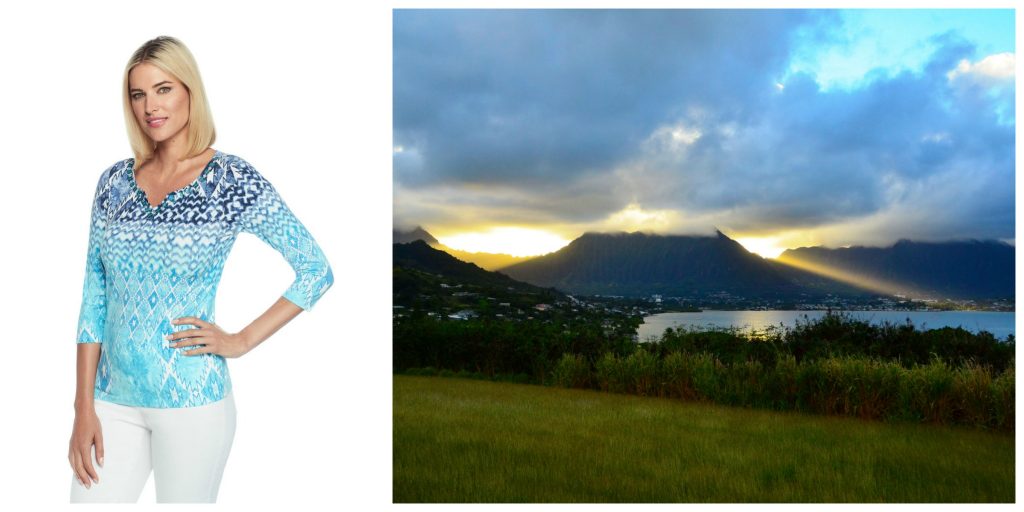 Photo Credit (Oahu Tropical Clouds): Natalie Woodson
We love the ombre effect of the clouds in the sky over Oahu, and we borrowed these blended hues for our embellished diamond print top.   Oahu, known for some of the most beautiful beaches in the world, is home to more than half of the residents of the islands, and is a featured location for many movies.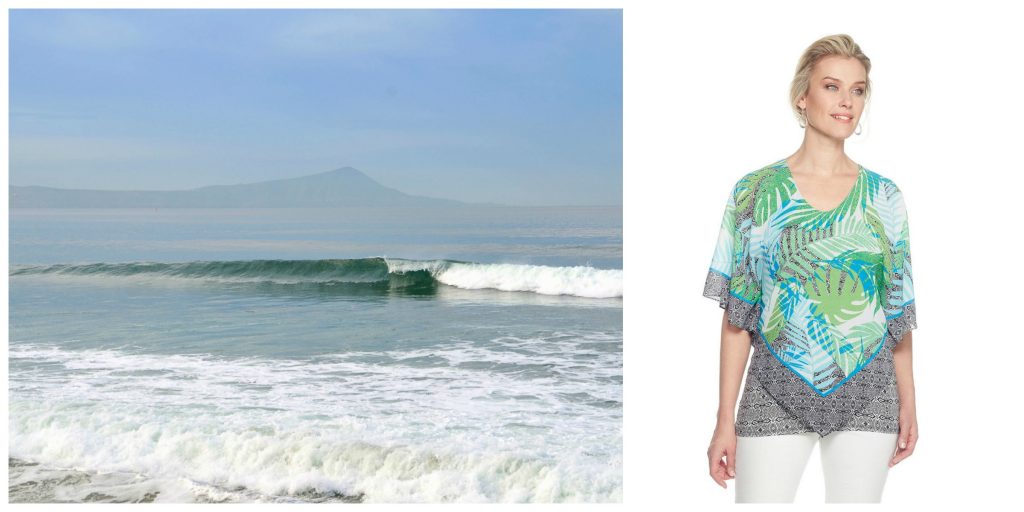 Photo Credit (Hawaiian Waves): Natalie Woodson
The right choice of colors can be impactful and gentle at the same time! Our woven print top, with tribal touches, transports us back to the Hawaiian beaches with its watery greens and blues.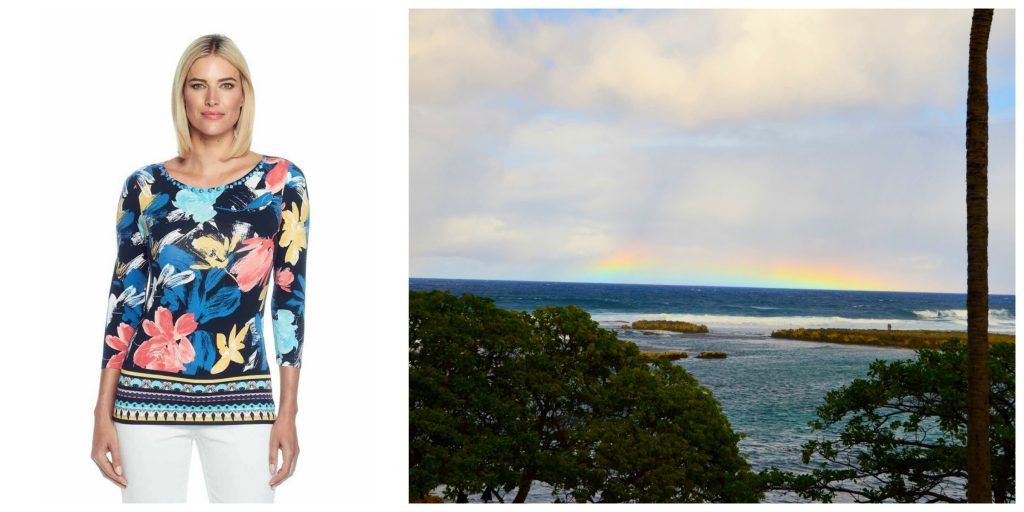 Photo Credit (Hawaiian Rainbow): Natalie Woodson
It's not spring without vibrant color! This rainbow over the ocean seems painted with brushstrokes, as does our floral print boatneck top. Both provide a dramatic burst of color, making any day extraordinary!
One of Hawaii's nicknames is 'The Rainbow State". The frequent showers bring the gift of amazing rainbows to the islands!
When we can't hop a plane and relax on a quiet beach, we want to bring island life into our fashion – and our food! For a taste of the tropics, try this Fig and Lime Shave Ice with Coconut from one of our favorite foodie sites, honestlyyum.com.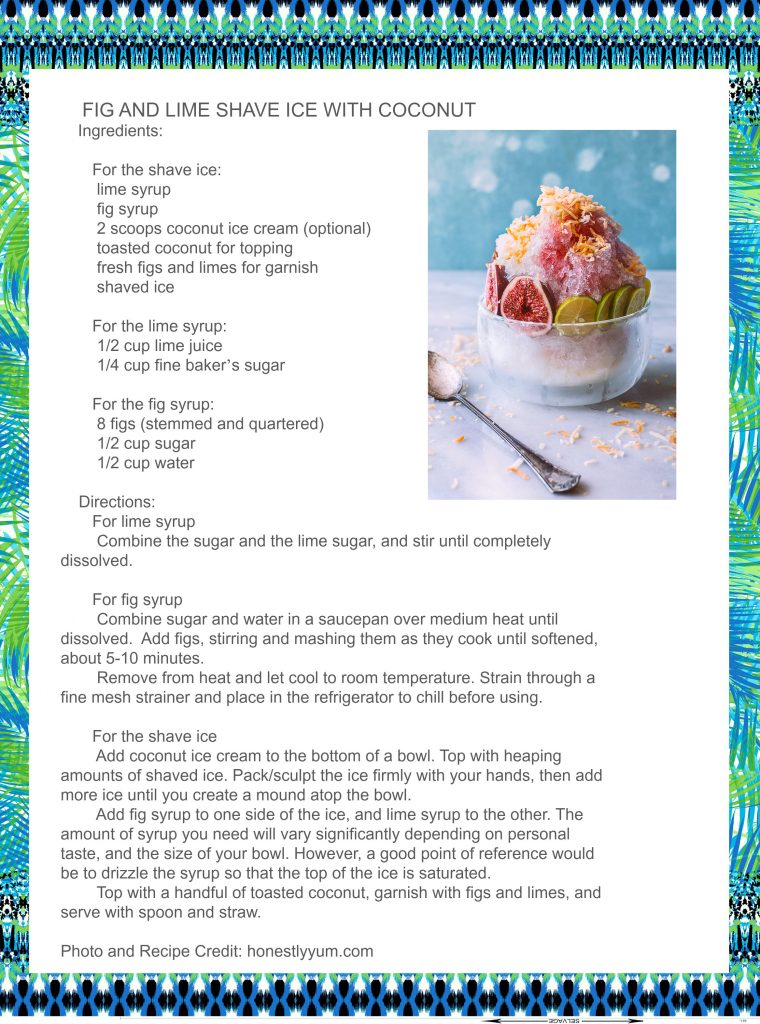 Find the recipe cards, available as free printables at the link below in our blog:
http://living.rubyrd.com/post.php?s=february-2017-recipe-cards-2
You can shop the blog by clicking on any of the looks you see here, or head straight to rubyrd.com, where you can shop anytime, at home or on the go!